My Winemaking in Past Years
The story of my journey through home wine making.
In this section I will be posting the story of my wine making experience with links to the whole story by Crush years (when the grapes are harvested).
Crush 2022: Lodi Chardoonay from Delta Packing
Crush 2021: Livermore Valley Merlot from Grapes for Wine
Crush 2020: Chardonnay from Brehm vineyards
:
Syrah from Delta Packing
Crush 2018: Chardonnay from Brehm vineyards
Crush 2017 - Primitivo/Zinfandle Blush and Apple Cider (hard).
Picked the grapes on at Petersen Vineyards in Knightsen, CA and the apple cider came from Sebatapol, CA.


Crush 2016 - Syrah
-
due to laziness and some other issues, back to Delta Packing for Syrah. Besides the previous Syrah from them (2012) turned out well. This has been an awarding wining wine!


Crush 2015 - Chardonnay
-
due to heat and timing, back to Delta Packing for Chardonnay. An excellent wine from these grapes.


Crush 2014 - Old Vine Zin, Pinot Gris, & Viognier
-
Back to picking, zin, white zin and pinot gris (so far). Also some viognier at the end. The zin is excellent.


Crush 2013 - Pinot Gris, Viognier, & Chardonnay -

From Delta Packing ~1000 pounds of grapes, 1/2 Pinot Gris, 1/3 Viognier, and 1/3 Chardonnay. Note to self - only ONE type of grape at a time, and NEVER more than 500 pounds!!




Crush 2012 - Syrah -
again a late season, and first use of grapes from Delta Packing
Crush 2011 (part 2) - Four at Once

-

from Brehm, a 2011 Chardonnay, a 2010 Viognier, and a 2011 Petit Verdot and a Pinot Noir.



Crush 2011 (part 1) - Petite Sirah -

2011 was a late season, and I picked the grapes myself.



Crush 2010 - in 3 Parts
(Part 1) RJS Cellar Classic Winery Series California Syrah - first try at making wine, and I used a kit. Came out pretty good.
(Part 2) RJS Grand Cru International CA Chardonnay - another kit done in mid-winter
(Part 3) Edon Knoll Zinfandel from Brehm Vinyards - wanted to try from grapes, but this was early spring, so I went with Brehm frozen grapes. Highly recommend for a starter set of real grapes.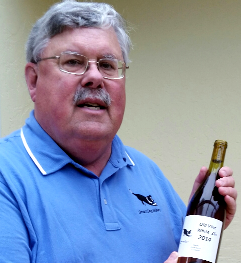 Or my excursion into winemaking
My first effort at making my own wine was in the late 1960's (I was a teenager about 17 years old) in Florida trying to make orange wine. Not knowing anything about, it was less than successful (miserable failure is a good description). Fast forward 40 years, and here I go again, but this time I spent more time and effort learning what to do. Where possible I will place worthwhile references under the links heading.
<![if !supportLists]> o <![endif]>E-mail: info@smartdogwinery.com