My Winemaking
T
he story of my journey through home wine making.

In this section I will be posting the story of my wine making experience with links to the whole story by Crush years (when the grapes are harvested).

I am proud to say that I have gotten several recognitions of my wine. For more information see my
Awards & Recognition.
For my past years see:
Previous Crushes
2020 Chardonnay
For 2020 I have gone back to Brehm for a Carneros Chardannay, mostly because they were picked before most of fires and thus should not have any smoke taint. When I was ready to get my grapes health issues in the family limited my options.
9 November 2020
Finished secondary fermentation and intial clearing. Now have it on a slight amount of oak. Also added some Potassium Metabisulfite.
The red wine is some of last years syrah that I have still not bottled (about 6+ gallons).
Pleae wish me luck, because this year has not been the best so far.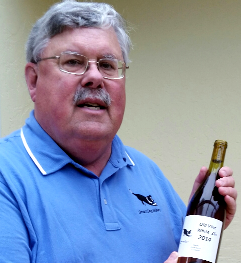 Or my excursion into winemaking
My first effort at making my own wine was in the late 1960's (I was a teenager about 17 years old) in Florida trying to make orange wine. Not knowing anything about, it was less than successful (miserable failure is a good description). Fast forward 40 years, and here I go again, but this time I spent more time and effort learning what to do. Where possible I will place worthwhile references under the links heading.
<![if !supportLists]> o <![endif]>E-mail: info@smartdogwinery.com