WELCOME!
This site is to pass on what I am doing, and how you can do it too! Where possible I will place worthwhile references under the links heading.
Well 2020 has been an interestin time (in the "may you live in intersting times" way). First COVID-19 which cancelled many of our plans for this year, and then the California fires. And no I amnot going to bring up politics.
I bottled most of my 2019 Syrah in mid-June and now in early October it might be ready for tsting. I said most, because when I went for the bottles they did not have enough of the kind I wanted. I still have 6+ gallons in a carboy.
For 2020 I have gone back to Brehm for a Carneros Chardannay, mostly because they were picked before most of fires and thus should not have any smoke taint. When I was ready to get my grapes health issues in the family limited my options. Finished secondary and now on a slight amount of oak.
The red wine is some of last years syrah.
For more details see HERE.
My Wine - outlines what I have been doing with my home winemaking. Click Here
Wine 101 - is an introduction to Home Winemaking for the beginner. Click Here
Links - provide special links to other sites of interest. Click Here
Special Topics - are discussions of topics related to wine making and other topics. Click Here
Please enjoy and let me know what you think of the site and especially if there is anything you would like me to cover.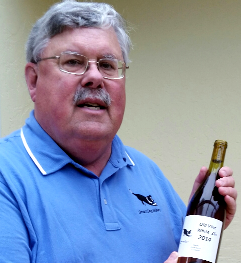 Or my excursion into winemaking
<![if !supportLists]> If you have any questions or would like more information please contact me at:<![endif]>: info@smartdogwinery.com