WELCOME!
This site is to pass on what I am doing in home winemaking, and how you can do it too! Where possible I will place worthwhile references under the links heading.
The last couple of years have been interesting in many respects, and 2022 looks to keep it going (especially with Covid and the Ukraine/Russia war). I am truly learning the meaning of "may you live in interesting times".
I entered two wines in the Alameda County Fair wine competition my 2016 Lodi Syrah and my 2018 Carneros Chardonnay. Won silver for both.
Crush 2022 is upon us, and I have staters my wine making. The begining of September has seen one of the hottest periods I have seen here in California. Add that to being 73 this July, I have continued with not picking my own grapes any more. Also have been looking at not crushing my own also.

Also following my recent trends has lead back to making Chardonnay which I got from Delta Packing in Lodi.
For more details see HERE.
My Wine - outlines what I have been doing with my home winemaking. Click Here
Wine 101 - is an introduction to Home Winemaking for the beginner. Click Here
Links - provide special links to other sites of interest. Click Here
Special Topics - are discussions of topics related to wine making and other topics. Click Here
Please enjoy and let me know what you think of the site and especially if there is anything you would like me to cover.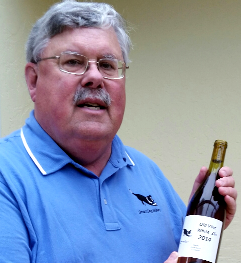 Or my excursion into winemaking
<![if !supportLists]> If you have any questions or would like more information please contact me at:<![endif]>: info@smartdogwinery.com