WELCOME!
This site is to pass on what I am doing, and how you can do it too! Where possible I will place worthwhile references under the links heading.
I have been continuing entering my wines in competitions and doing pretty good.
This year I entered a new one for me the Bottle Shock Open in Lodi. And took a bronze medal for my 2015 Chardonnay and an Honerable mention for my my 2016 Syrah.
I also entered the Winemaker International again and got another bronze for my 2016 Syrah.
Also have now bottled my 2018 Chardonnay.
My Wine - outlines what I have been doing with my home winemaking. Click Here
Wine 101 - is an introduction to Home Winemaking for the beginner. Click Here
Links - provide special links to other sites of interest. Click Here
Special Topics - are discussions of topics related to wine making and other topics. Click Here
Please enjoy and let me know what you think of the site and especially if there is anything you would like me to cover.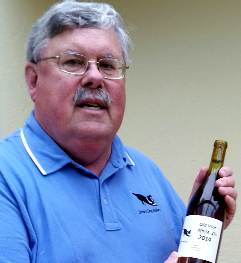 Or my excursion into winemaking
<![if !supportLists]> If you have any questions or would like more information please contact me at:<![endif]>: info@smartdogwinery.com